Change Your Distiny, Change your Life
Knowledge for well-being
Integration of Eastern and Western Knowledge , Wisdom,Virtue and Culture  
BOOK review
Control your destiny Change your life
You can fly by knowing"Health Sciences of Mind and Body"in the future.
Auther Mari Kusumi
PhD.in Medicine,MA in Clinical Psychology,
President of the University of Human Arts and Sciences.(Japan)
The chairman of the board of trustees, the Japan Society of Health Sciences of Mind and Body..
President of the Tokyo Human Health Sciences University Vietnam.
On Sale 2016.02.15
Author's message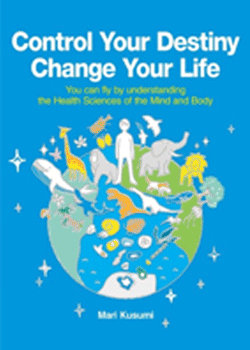 This book draws upon scientific knowledge concerning human life. Studying the essential nature of humans will provide some rational advice for how you can live a better life. I will also share with you some of the realizations that I have gained from my own experiences. I hope that you can glean some hints for how to comprehend, interpret, and deal with any confusion and unease you encounter in life.
However, you should never try too hard. This book is designed to be food for thought, so you should use it in a way that helps you live a dignified life that is true to you. You should use this knowledge to love yourself and those around you. I hope that this knowledge will be a great asset, and help you to live a bold and joyful life.
And………………Ever since the beginning of the 21st century, humans have been facing global-wide problems like nothing ever witnessed before. Living amidst an anonymous multitude, our sense of isolation is deepening, and we are losing sight of ourselves as self-reliant and interdependent individuals. Many people are now in the grip of confusion and self-doubt. They wonder to themselves why they were born, what they need to do to achieve happiness, and what value they offer to the world. The world is becoming an increasingly hostile place, and a place that no longer seems to offer clear reasons for living.
As humanity evolved, we continued to control gene expression as a means of adapting to harsh environments until we reached our present state. The Japanese people have undertaken a long journey from far away, and the sense of values that is passed on in our genes was developed through the changes of the seasons, an island nation frequented by earthquakes, and other natural features of the country. The unique sense that there is a spiritualness in every part of nature, and the idea of coexistence with life that was developed here, are emblematic of the Japanese people. As human beings, we adapt to nature, the climate, and the seasons, and in an environment of many changes we developed this idea of coexistence that is now deeply rooted in our everyday lives as a kind of knowledge for well-being.
This knowledge produces culture as it coexists with, and becomes harmonized and fused with, different cultures and a wide range of thinking, religion, and science, and it lives within us today in our DNA.
This book contains this unique Japanese sense of values that belongs to me as the author. In the book, I explain this awareness or way of looking at things which lies within the Japanese people from a scientific perspective, and present it as "life promotion" and as "Knowledge for Well-being" that can be helpful when making life choices.
It is to this generation that I wish to transmit knowledge for well-being. In this book, I provided hints for how we can live better lives. I would finally like to offer the following words of wisdom to the people living in the present age. 
 
Sales Web
Published T&M Kusumi Foundation
Order(Online) University of Human arts and Sciences
Sales KINOKUNIYA COMPANY LTD,Japan
The sales price: Please watch Sales Web  
Contact information
University of Human Arts and Sciences/T&M Kusumi Foundation
HSMB Press
Phone: +81-48-749-6111 Fax: +81-48-749-6110
e-mail:
houjin@human.ac.jp
Peeking in contents of this book.